CharaExpo

was just over last month. Here comes

Icexpo

this week. What's with all the Expos? Confused?

I

C

E

X

P

O

2015

is a new and novel cosplay event where you can get to engage in

cultural exchanges

with your

favourite cosplayers

from Asia.

Misa

(Taiwan),

Luffy

(Hong Kong) and

Sakuya

(Japan) are just some of the notable names who you will get to meet at Icexpo this coming weekend.

With the event fast approaching, we have no time to lose writing long, wordy posts trying to challenge our readers' attention span. Therefore, let's move on to what's important- the one question that's on everyone's mind- "

WHAT IS

I

C

E

X

P

O

2015?

" The

location

where it will be happening at, the

activities

which you can join in, the cool

merchandise

on offer and what you

stand to gain

out of Icexpo-

why you should come to Icexpo 2015

- everything presented to you in one, easy-to-read guide!

WHEN IS ICEXPO? ICEXPO 2015

is taking place this weekend at

*SCAPE The Ground Theatre (Level 2)

on

Saturday, 11th July

and

*SCAPE Tree Top (Level 5)

on

Sunday, 12th July!

It is organised by the former organisers of the Cosmo Youth Parade and is supported by the

National Youth Council, Singapore

.

The event will be held from

9am to 7pm

on Saturday and

11am to 4pm

on Sunday so mark your calendars and be there early if you can!

WHAT CAN I DO THERE?
Meet fellow like-minded pop culture lovers, make new friends and share your passions.
Engage in Cultural Exchange Sessions (both ticketed and open to the public) and speak to your favourite guest cosplayers from Asia in person.
Bring home goodies of the cosplayers you admire at the event. There will be merchandise such as postcards, posters and photo books on sale.
Take part in an open Harajuku Fashion Panel Talk and Discussion with Junnyan and join the Harajuku Fashion Walk Singapore on the same day.
Catch performances by local Love Live! cover group A-LIVE and wotagei team Tengoku Parade at the ICEXPO Street Showcase on Saturday.
Pay a visit to the Love Live! themed Amai Sweet Cafe on Sunday featuring well-known cosplayers in the local community and guest cosplayer Luffy as Honoka!
WHO'S COMING DOWN?

Icexpo will see

EIGHT eminent cosplayers

from around Asia coming down to Singapore! This is

one of the biggest gatherings

of star cosplayers in Singapore yet!

WHAT'S HAPPENING WHEN? - SATURDAY, 11TH JULY

Venue: *SCAPE The Ground Theatre (Level 2)

0900-1100:

Exclusive Exchange (Ticketed)

1200-1400:

Premiere Exchange (Ticketed)

1300-1500:

Public Exchange (Free Entry)

1600-1700:

Harajuku Fashion Forum

1700-1900:

ICEXPO Street Showcase

- SUNDAY, 12TH JULY

Venue: *SCAPE Tree Top (Level 5)

1100-1600:

Amai Sweet Cafe

1430-1600:

Public Exchange at Amai Sweet Cafe

CULTURAL EXCHANGE SESSIONS (

9AM TO 3PM

, SATURDAY)

The cultural exchange sessions with the

'Eminent Eight'

cosplayers are no doubt the

main highlight

of Icexpo. Participants can expect to engage in

meaningful casual conversations

with the guests in person and talk about anything they like, just like talking to a friend. It is something that has never really been attempted before, especially not at mega conventions and events in Singapore.

The cultural exchange will be split into three two-hour long sessions on Saturday- the

paid and ticketed Exclusive

and

Premiere

exchanges and the

free and open-to-all Public

exchange.

Ticketed participants

will be entitled to

take photos

with the guests. Icexpo event crew members will be on hand to assist in photo-taking using the fans' own phones or cameras. To ensure that everyone has a chance to interact with the guests, photo-taking is strictly limited to

once per guest

.

Guests may

sign

on the

Guest Merchandise

purchased on site for all fans.

A maximum of 3 items

are permitted to be signed on by each guest.

Priority

will be given to participants who have yet to interact with the guest. Kindly note that the

free perks, door gifts and personal items

are

strictly not eligible for signatures

. After interacting with any guest, participants will have to

queue again to meet the next guest.

It is to be noted that the Premiere Exchange and Public Exchange sessions will

overlap

from

1pm to 2pm

. Ticketed holders are advised to come early for the

Premiere Exchange

session which will commence at

12pm

. Nevertheless, there will be

priority queues

for ticket holders during the overlapping window.

HOW DO I GET TICKETS?

The sale of tickets for the cultural exchange commenced in mid-June on the SISTIC Ticketing platform. As of 3rd July, online sales have ended. However,

you may still purchase tickets on-site

on the event day.

Tickets cost

$15

each for the

Exclusive Exchange

from 9am to 11am and

$10

each for the

Premiere Exchange

from 12pm to 2pm.
Expect additional free event items to be given out to ticket holders!
Among the
perks
listed for ticketed participants are:
Priority access to IceExpo. The Exclusive and Premiere exchanges are both scheduled earlier than the Public Exchange. (You'll have to wake up really early for the Exclusive exchange at 9am though)
Complimentary event lanyard
Free guests' photo postcards (4 pieces for Exclusive, 2 for Premiere, exclusive to ticket holders only)
$5-$10 Discount on Guest Merchandise
Photo-taking with guests and signature on up to 3 items by guests
Reservation of limited-stock items such as photo books and poster prints for ticket holders (60% of all for Exclusive and 40% of all for Premiere)
Additional Free event items will be given, while stocks last
Free guests' photo postcards, exclusive to ticket holders only

Tickets will have to be exchanged for a Registered Event Pass

prior to entry for the respective cultural exchange sessions. An

Event Pass Counter

will be set-up on-site and it will

open at 8am

on Saturday morning. Members of the public attending the

free Public Exchange

will have to queue to receive an

Attendee Event Pass

. Event passes are to be worn at all times and are

non-transferable

(that means no lending your pass to your friend if he wants to meet Misa).

It's ultimately up to you to decide if the perks justify the costs. If you really like the cosplayers, it wouldn't hurt to get a ticket as it saves you time and money, and you get to purchase their merchandise first.

HARAJUKU FASHION FORUM (

4PM TO 5PM

, SATURDAY)

What's happening right after the cultural exchange sessions? The fun doesn't stop! Harajaku fashion lovers, get ready to meet

Jun Nyan

, the

organiser of Harajuku Fashion Walk Japan

! He will be hosting the

Harajuku Fashion Forum

on stage at

*SCAPE Ground Theatre (Level 2)

in the afternoon, from

4pm

onwards. More details are available on the

official event page

.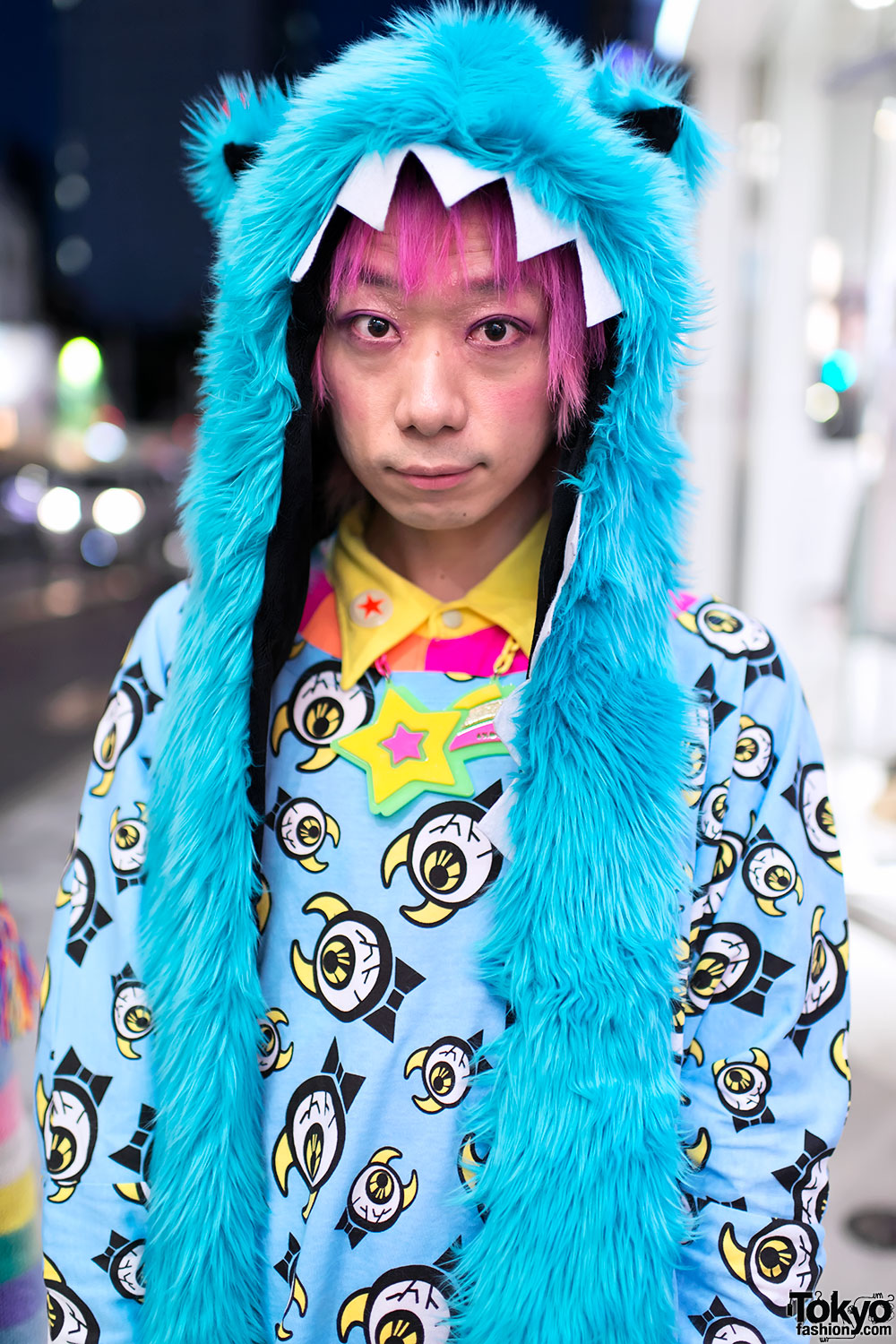 Jun Nyan, organiser of Harajuku Fashion Walk Japan (Photo: TokyoFashion.com)
The panel is of course, open to the public for free. Before his panel, Jun Nyan will be participating in the latest edition of the local
Harajuku Fashion Walk Singapore
from
1pm to 3.30pm
. The walk will kick off at the Merlion Park at 1pm and be making a stop at the National Museum at 2.30pm before continuing towards *SCAPE. Come dressed in your best and most flamboyant outfits!
The most recent edition of Harajuku Fashion Walk Singapore, held every month! (Photo: HJFWS Facebook)

ICEXPO STREET SHOWCASE (

5PM TO 7PM

,

SATURDAY

)

A

street showcase

will take place on Orchard Road from

5pm to 7pm

to top off Icexpo's packed day of activities. At present, there is little information regarding the showcase on Saturday. We will update you on the latest as we get wind of it. However, you can expect it to

turn Orchard Road into a cosplay runway

similar to the one organised during Cosmo Youth Parade 2013.
Cosmo Youth Parade 2012, part of the SHINE Youth Festival at Orchard Road
Several local groups will be performing during the street showcase, namely local Love Live! cover group
A-LIVE
, Singapore's very own mobile maid cafe concept,
Pika Pika Meido Cafe
, wotagei group
Tengoku Parade
and J-POP cover band
Ryuusei
. Do head down and support them in your best cosplay!
Singapore's very own Love Live! cover group A-LIVE (Photo: A-LIVE Facebook)
Ryuusei and friends (Photo: Ryuusei Facebook)

AMAI SWEET CAFE (

11AM TO 4PM

,

SUNDAY

)

Things take a sweeter turn on Sunday as the day of activities begins slightly later at 11am, with new cosplay cafe

Amai Sweet Cafe

debuting at Icexpo. Cosplayers dressed as the school idols from Love Live! will be making up the cafe, including Singaporean cosplayer Kirisaki as Maki and guest cosplayer Luffy as Honoka.
Amai Sweet Cafe will be debuting at Icexpo!
The cafe will be welcoming their
first wave of customers at 11am
. They will be hosting
five waves
in total, with each wave commencing on the hour and
lasting forty-five minutes
. There will be several performances in the cafe throughout the five hours. The
performance schedule
is as follows:
1230:
Singing Performance by Rin
1330:
Dance Performance by Maki, Nico & Eli
1430:
Singing Performance by Rin and Hanayo
1530:
Final Performance
Thinking of where to have lunch on Sunday afternoon? Come on down!
In addition, there will be another
Public Exchange
with the
guest cosplayers
at the cafe from
2.30pm to 4pm
. Details are hazy on this. We are unsure if only the cafe's customers will be able to interact with the guests or if the public are welcome to join in too. With the session being a Public Exchange, it implies that it is open to all members of the public. However, it would be rather impolite to infringe upon a cafe's operations during the same time too...
Meet Luffy as Honoka in Amai Sweet Cafe on Sunday!
The cafe staff's many
cosplay merchandise
will also be
on sale
at the cafe on Sunday. Do check out their Facebook page for more updates!
WHAT CAN I TAKE HOME?
Now that you know what will be going on at Icexpo, let's take a look at some of the
interesting merchandise
that you may bring home!
Luffy's photo book and posters will be on sale at Icexpo!
Most of the goods on sale will be
Guest Merchandise
from the invited cosplayers. There will be the usual assortment of
postcard sets, photo books and posters
on sale which ticketed exchange participants will be able to get at a lower price. The merchandise will be on sale at the
*SCAPE Ground Theatre (Level 2)
on
Saturday, 11th July.
In addition, a
limited edition Icexpo poster
will be given out to the
first 100 participants
of each ticketed exchange session (Premiere/Exclusive) on Saturday so be in line early to get yours!
Redemption
will be made at the on-site
Event Pass Counter
which opens at
8am
. The poster features photos of all the 'Eminent Eight' cosplay guests. It will also be on sale at
$5 each
. It is to be noted that more than 100 pieces may be actually given out on the day itself, subject to availability.
The first 100 in line for each ticketed exchange session will receive this poster for free!
An
Icexpo collaboration T-shirt
with Hong Kong character designer
HuskyKevin
's "Husky X 3" project will also be on sale at
$35
on-site. Granted, it is a tad too pricey for me but do grab one if you like it!
An Icexpo collaboration T-shirt will also be on sale at $35, for those interested!
That's not all! Ticket holders, don't forget to collect your
free Goodie Bag
after exchanging your ticket for an event pass! Beauty salon
Go60
has sponsored some vouchers for the participants. It seems that more details of the goodie bag contents will be revealed as Icexpo nears this weekend. We will update as soon as we get the latest.
One of the free gifts in the Icexpo goodie bag
Milkcow vouchers are in the goodie bag too!
DETAILS TO TAKE NOTE OF
Icexpo has set some house rules to ensure fairness to all participants and maintain a conducive environment at the event. In addition to the aforementioned rules regarding the
redemption of tickets for event passes
and
cultural exchange sessions
, here are some additional points to take note of:
Respect the guests. Please ask for permission from the guests before taking any photos. Flash photography is prohibited at all times. Form orderly queues to maximise interaction time with the guests.
Priority might be given to participants with exact payment for Guest Merchandise purchases. Participants are advised to come prepared with exact change.
Icexpo values the participants, together with their crews. Please adhere to instructions by the crew to ensure a positive event experience for everyone.
Your patience is appreciated during the Event. ICEXPO reserves the rights to adjust Perks and Entitlements for all Ticket Holders including providing a refund where applicable.
HELP US COVER ICEXPO!
Seems like this turned out to be a longer post than planned. However, we hope that you have gained a better understanding of what Icexpo is all about and the activities that you may participate in over the weekend. If you have any questions, kindly message the
Icexpo Facebook pag
e.
The XDantheManX Online team will be attending the
Icexpo Media Preview
on Friday night so
LIKE our Facebook page
and
FOLLOW us on Twitter
for the latest updates and post-event coverage. We will also be doing our best to bring you the best coverage of the event so don't hesitate to leave your comments and suggestions below!
Tell us what you would like to ask the guest cosplayers!
Follow @TanoshiiNow
Until then, see you at Icexpo this Saturday and have a good week!